Back to News
Sustainability and Style: How a Flat Roof Can Modernise Your Conservatory
November 17, 2023|News
Many mistakenly believe that a conservatory is only suitable for period properties and historic homes. While Victorian and Edwardian-style glazed conservatories are typically found in older properties, there are many conservatory roof styles that perfectly complement a more modern home.
Many conservatories typically feature a highly-pitched glass roof, but tiled flat roofing can modernise your conservatory and create a versatile, contemporary structure that extends the useable living space of your home.
Sleek contemporary style
Traditional styles such as Edwardian and Victorian conservatories might not suit newbuilds or contemporary properties – but there are plenty of other options available!
A flat or low-pitch conservatory roof replacement is a great way to refresh and rejuvenate an existing space.
Lean-to conservatory styles can be constructed with a low-pitch roof, adding sleek, modern style to your home. Contemporary and sophisticated, lean-to conservatories are increasingly popular with newbuilds. When combined with patio doors, this style of conservatory offers a seamless transition between inside and outside space.
A lean-to style is also relatively easy to install compared to other styles, meaning you can transform your home in no time!
A flat conservatory roof can also help your conservatory 'blend in' more with your existing home, making it a seamless additional part of your living space.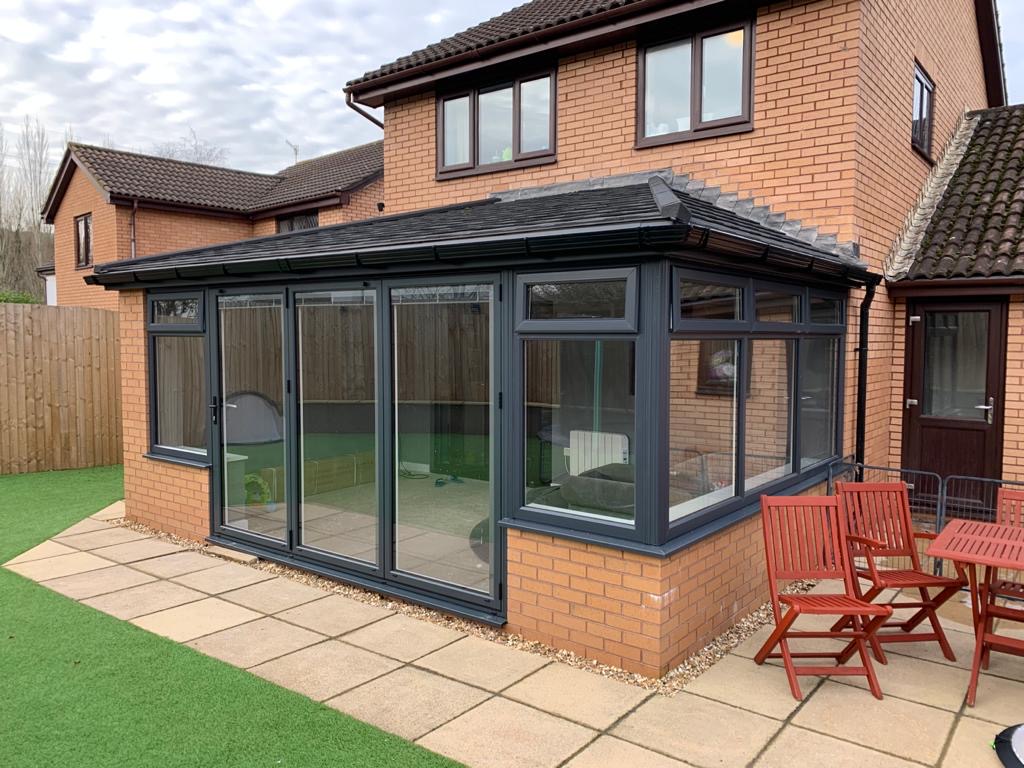 Optimal thermal efficiency
We offer a range of conservatory roof styles using the SupaLite roofing system – unlike outdated polycarbonate conservatory roofs, the SupaLite system contains clever insulating technology and offers enhanced thermal efficiency, meaning you can enjoy a comfortable space in any season.
An incredibly energy-efficient roofing system, installing a SupaLite roof onto your existing conservatory can also help you keep your energy bills low in the long term as less-energy is needed to maintain a comfortable temperature in your conservatory.
Perfect for low-pitch conservatories
Available with either Lightweight Tiles or Tapco slates, the high quality SupaLite conservatory roof also comes in a range of colours and is compatible with any type of conservatory.
Because of the lightweight design of the Extralight Tiles, the SupaLite system is perfect for those wanting a flat or low-pitch conservatory roof!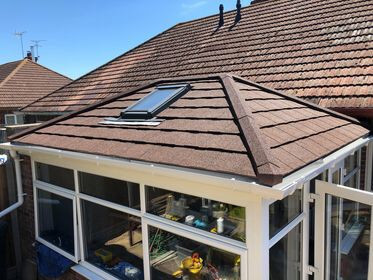 Let the light in with a skylight
A flat or low-pitch roof can be customised with Sky Vista glass panels to allow as much or as little natural light as you choose. This means that you can create a sunlit, modern space to perfectly complement your existing home's style!
Looking to create a modern, versatile space?
If you'd like some help choosing the best conservatory roof style for you, get in touch today. We help homeowners across the North East bring their home improvement projects to life, and, with our range of conservatory roof styles, there is something for everyone. We also offer a range of orangeries, garage conversions and glass conservatory roofs, and our hassle-free installation process is designed to bring you the best home improvements while minimising disruption.
To get a free quote or request a brochure, contact us online. You can also call us on 0191 489 5063.